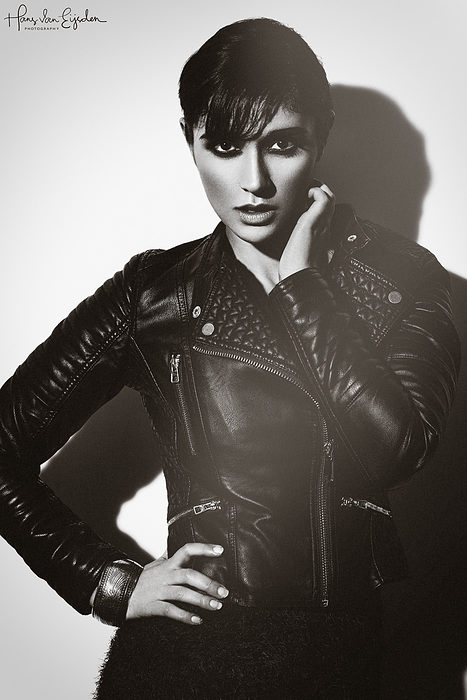 Elinchrom Fresnel Light: Back To Hollywood
| 13 images
This post is also available in:
Dutch
Many years ago, in the Hollywood Studios, there was one big successful type of light to work with to create stunning effects: fresnel light. Think about those portraits of Marilyn Monroe, with hard shaped light wrapping around her face, contrasty with shadows as sharp as a knife. The thing with hard light is.. you'll see everything. It will emphasize all the skin details and for portraits it will be too sharp. So, photographers who were using fresnel lights were using a trick.. putting tights in front of the lens. They were "blooming" the highlights, smearing them and making the skin tones softer.
That's what we wanted to try, model Tamara Terzic with the help of makeup artist Martina Kató. Experimenting with high contrast black & white imaging (if you know me already you know that I like it more and more). Using a very special ancient custom made Elinchrom fresnel light, with the ELC1000 shining through the lens of it. Seriously, wow.. so incredibly sharp, simply too sharp! So we immediately wanted to use the tights in front of the camera lens and yes that worked great. That glamour glow, like no Photoshop plugin can do. Pure nature, glowing blooming skin straight from the camera.
We will soon be back with more. There are so many questions unanswered, after working so much with softer lights. Oh, I wish I could shoot all of my models again with that fresnel light, just to see the effect of the change in expression and character. There's something over it, an extra feeling, it's like drawing with a pencil, really shaping the light around the subject what attracts me even more. Who knows, possibilities are endless.. 😉
If you're a model with special ideas and if you want to give it a try, just book now. In the near future I will write more about the light, with some more pictures. As for now, I'll keep it still a little bit mysterious.