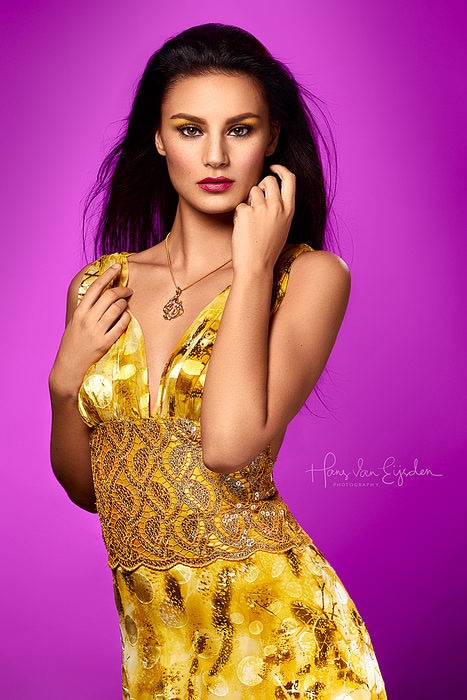 The Mola Setti Softlight vs. Elinchrom Fresnel Hard Light
| 25 images
This post is also available in:
Dutch
And there it was, the beautiful large Mola Setti Softlight from Canada, delivered to the front door. With a big truck; a huge box on a pallet. The newest version of the Setti, with a new heavy duty mounting system. Finally, playing time with the world's best beauty dish… and the beautiful Soraya as model!
The Mola Setti Softlight is a light shaper. It fits onto my existing Elinchrom studio and location lighting equipment. To me it's the holy grail of portraiture: the Mola Setti enables me to shape the face of the model even more, with more contouring, perfectly controlled highlights and even higher contrasts. This way, character and personality gets accentuated even more, with a glamorous touch to the overall appearance of the resulting images. It gives the model – compared to conventional beauty dishes – more room: more flexibility to move because of the very even gradual light spread.
The Setti is rather heavy and big. It needs a large Manfrotto tripod mount (Junior, not Baby) and I also equipped it with the large white grid, to give the light even more control. It performed flawlessly in the studio with the Elinchrom ELC1000 studio flashes and it gave me more than 1 stop of light output, compared with the Elinchrom Deep Octa (which I still love). We also took the Mola Setti and the Manfrotto stand outside, driven by the Elinchrom ELB400 location flash pack. That one stop more efficiency really made it possible to flash away most of the sun light, with less power. Great!
With Soraya in my studio I took the opportunity to compare the light character of the Mola Setti Softlight with the hard light of the big Elinchrom Fresnel light. The Setti gives beautiful soft but contrasty shadows and as expected, the Fresnel gives perfectly sharp shadows with high contrasts, just like sun light would do but then with a better control and without making the model blind with permanent bright sun light in her face.
With the combination of the Mola Setti and the Elinchrom Fresnel I found the perfect couple to deliver me exactly the images I want, in the studio. But they are rather heavy and bulky to take outside, so when traveling I still prefer the Elinchrom Deep Octa for the softer kind of light and a simple small dish or an Elinchrom Maxi Spot for the harder light while overpowering the sun.
For those curious about my Mola Setti "golden recipe": I used the PAD and the OPAL disc together, with the white 20º polycarbonate grid in front of it.