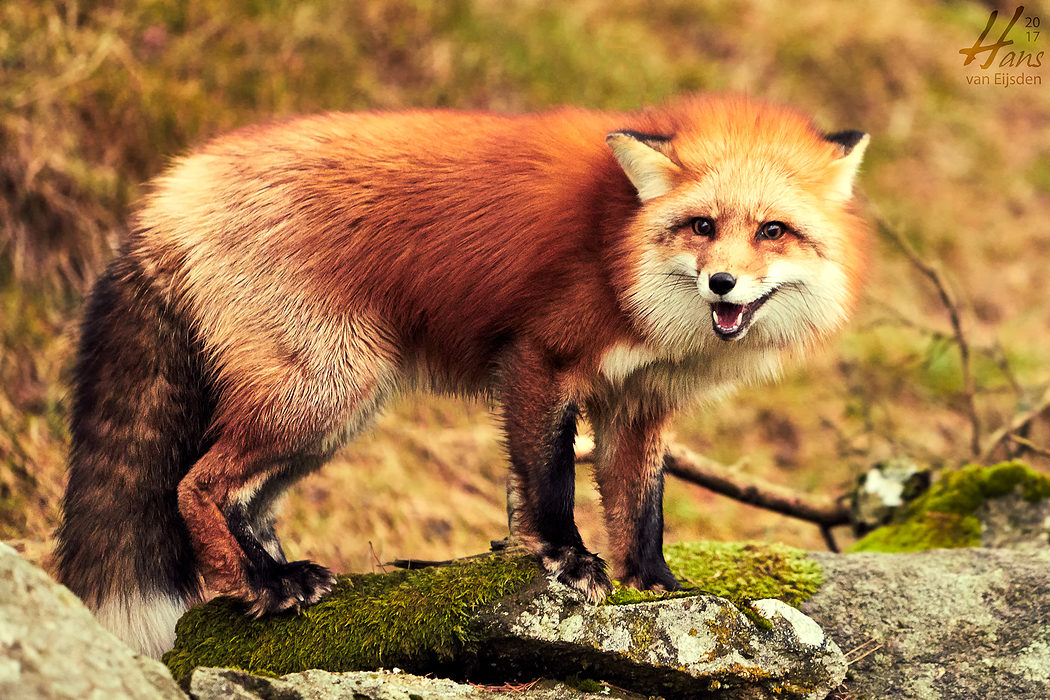 Ayla The Fox: Catching Mice In The Mountains Of Norway
| 41 images
This post is also available in:
Dutch
"Tomorrow I'll be photographing a fox. Ayla The Fox. A beautiful fox in the Norwegian mountains!". I barely could sleep. But why? I mean, I'm used to photograph the most beautiful persons in the most beautiful surroundings, that's my job, but now it was something different. An animal, which I didn't know how to control. No staging, no communication, no possibility to position, measure and adjust additional lights, just plain luck and capturing the right moments, using only ambient light.
The next day I woke up. Looking outside the window, all I saw was a grey surrounding. Foggy, rainy and boring. Nothing like I was used to have while planning shoots outside. And another thing didn't make me happy: I connected to my remote webcam in The Netherlands and it showed sun there. Oh boy, what was I doing in Norway? A day of trying to capture a fox, in the rain, freezing the motion while it was almost grey and dark outside? Hmmm. I had my doubts. Technically spoken, although I have ultra fast glass and the newest Canon 5D Mark IV camera, it would ask the most of the camera. I certainly would need to use very high ISO sensitivities to be able to use fast shutter speeds and to freeze the motion of the fox. So, that was the thing I was going to try.
While driving in the mountains suddenly I saw some beautiful houses on a hill. A touch of vivid colors, in a grey and rainy landscape. When we stopped there, a happy girl came from the distance and greeted us: Silje. A big smile, vivid eyes, cute pigtails and… a beautiful fox in her arms. I immediately liked her and the fox and from that moment I knew this day would be special.
We decided to do a short walk through the mountains and see what we could capture.
There we went. Walking a small muddy road. On the left we looked up to a rock formation and on the right were more fields of grass. And there was Ayla, running back and forth, catching a yellow ball which Silje threw away. But then, Ayla was gone, nowhere to be seen anymore. I started to panic a little and looked around, through the beautiful landscape of rocks, mountains and valleys. Looking for something what looks like a fox, with a coat very similar to the terrain.
But then Silje called. She found Ayla, and Ayla was just following her instinct.. Silje smiled at me and her eyes were sparkling: she probably knew what Ayla was doing. I decided to come closer to the playing fox and I took my camera with telephoto lens. While looking through the viewfinder I immediately could see what was happening: two legs, a short tail and a ball of fur. Flying through the air. A mouse! And behind the mouse Ayla, with quick moves playing with all the mice she could find. I immediately realized it was just nature. Only one fox, and many mice, a whole family probably. It was fascinating to see, for all of us, and I decided to take some pictures of the happening.
Ayla The Fox was born on a fur farm. When Ayla was 4 weeks old she was rescued from that fur farm by Silje, to give her a better, adventurous life. But Ayla can't survive on her own, because she was born in captivity on that fur farm. But together, Ayla and Silje are visiting the most beautiful places in Norway, the great outdoors, every day. Better than ending up as part of someone's coat, if you ask me.
Silje lives on a farm, together with Ayla. Ayla has an ow enclosure at the farm, but also lives inside her house. To prevent hunting for goodies in the kitchen, Silje's father made a fence, separating the kitchen from other parts of the house.
Until Ayla was 4 months old, they stayed around the farm together. But then, Ayla started chasing the dogs and deer there, so from that moment on Silje had to take Ayla further from the farm, up into the mountains. Almost every day. And for as long as the fox wants, no matter what. That paid off: 8 months later the fox became as tame as possible. And she can do tricks: she can roll around, be seated until she is allowed to come, providing "high five" with a paw and lie flat.. pretty remarkable for a fox.
Currently Ayla The Fox and Silje have already more than 50.000 followers on Instagram. Make sure you follow them, to get a beautiful view of their lives in the Norwegian mountains here: @aylathefox on Instagram.
As said above, to capture and freeze the movement of Ayla was quite a challenge. Although I had my quite fast Canon EF 70-200 f/2.8 L IS USM lens with me, sometimes I needed to raise the ISO setting to ISO 25600 to maintain a shutter speed short enough to make sure the fast movements of the fox didn't end up blurry in the shots. A consequence of the high ISO is the fact that there are higher noise levels present in the image. Fortunately my Canon EOS 5D Mark IV camera delivers the images almost noiseless at those ISO levels. Really great, this made the difference between useable images and noisy throw-away shots with insufficient details.
It made it possible to my to capture Ayla chasing mice and getting the shot while she threw a mouse in the air, chasing it. It was, of course, only a matter of fractions of seconds and the timing had to be right, but in the end I'm quite happy with the results.