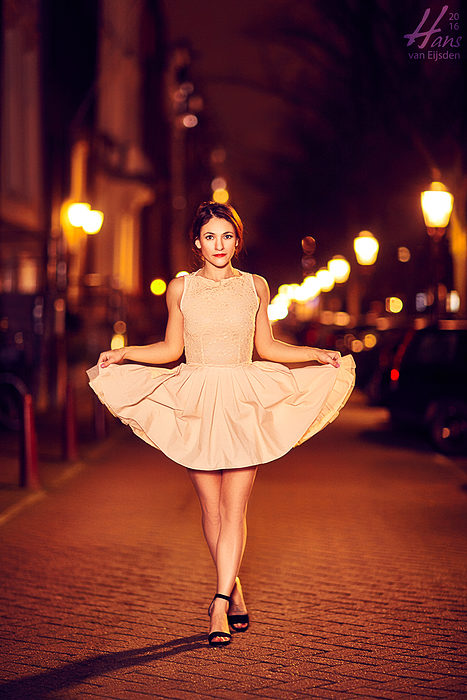 Sera on The Streets of Amsterdam
| 22 images
This post is also available in:
Dutch
The streets of Amsterdam are always fascinating. Especially during the darker days, with all the city lights, the music, the people.. those times I love being a tourist in my own country.
After a day of hard work I took Sera Yosta, my most beautiful lens and my Elinchrom light outside to the streets of Amsterdam, just to see what light can do. The temperature was quite high here in The Netherlands, 14 ºC in mid-december! So, the perfect moment to make some simple clicks.
Sera is one of my favorite models. She's one of those special people, giving me back the energy, happiness and creativity by just being herself. We never did some work outside (except commercial assignments), so this was a win-win.
I wanted to use a slow shutter speed while using my fast 85mm f/1.2 glass and I used an ultra short flash duration of 1/5700s to freeze her motion. This is called dragging the shutter and it enables me to bring as much ambient light as possible into the image without making the subject blurry. I used the new Elinchrom ELB 400 with an Action Head in port B, on 2nd curtain sync with the new Elinchrom Skyport HS flash trigger. I boomed the light through an Elinchrom Deep Octa to give the images the punch, softness, contrast and crispness I wanted to have.
The flash system was really efficient. My ELB 400 was on 0.1 – 0.7 power, so barely on. My Deep Octa had the half-translucent deflector inserted, and the inner diffuser. Still there was an enormous light output, incredible.
For one moment I was thinking about using only the modelling light in stead of the flash tube, but I really wanted to be able to freeze the motion and only an ultra short flash burst would allow me to do just that. So we had to take some distance, sometimes there was 5 – 7 meters distance between the light and Sera Yosta.
Now the days are getting longer again and Amsterdam is changing. Spring is coming, moods are different. But this light enables me to make these kind of shots more with ease. I want to do these kinds of shots in daylight too, also on f/1.2 but with the Elinchrom Maxi Spot, the HS head and blowing the sun away, making everything darker and darker. Who knows! Just drop me a message if I can do something for you.. for example on the Streets of Amsterdam. 🙂