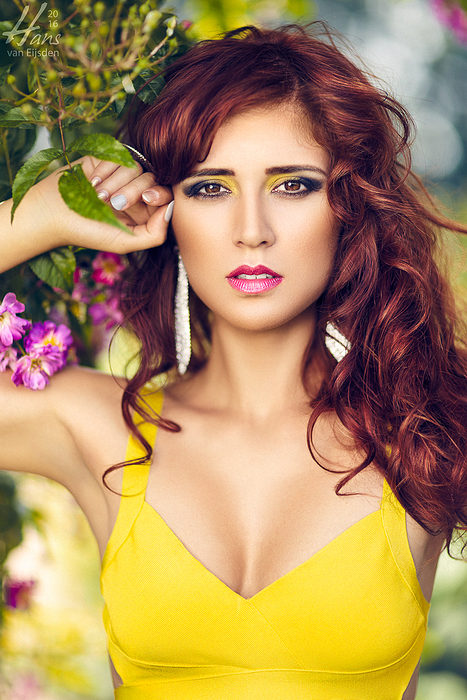 Glamorous Shots with the Elinchrom ELB 400
| 13 images
This post is also available in:
Dutch
Working with glamorous high contrasts and face shaping by light.. we love it because it gives the images more pop. It was a beautiful warm and sunny day so Tamara and I decided to go outside, searching for vivid glamorous colors like flowers and leaves. Ayse Aslan did the makeup and the hair, and to give the photos a more even, surrealistic light I took the Elinchrom ELB 400 photo light system with me. As you probably know, the large Elinchrom Deep Octa is still one of my favorite light modifiers. It accentuates the facial expressions, making the skin look even more perfect and giving it a glamorous edge around the cheekbones and other shadow areas.
Outside I used the Elinchrom HS heads. These lamp heads make it possible to use shutter speeds faster than 1/200s, because of the bright sun light. This way, I can open the lens to f/1.2 if I would like, to make the background creamy, blurry, non-distracting. Like a painting, with Tamara melting into that background. Exactly what we were looking for.
I also created LCC profiles, because the HS heads create a little bit of a gradient. In Capture One I can correct for that with the LCC profiles, therefor the resulting images will be without light falloff. I will explain this workflow in a future article so stay tuned.
I also used the ELB 400 in the studio. One simple Action head as key light through a large Elinchrom Litemotiv strip light from the side, for example. And another head from the back. These gave Tamara a great rim light effect with even higher contrasts.
And last but not least, a frontal beauty shot, to explain the retouching workflow in a live Facebook video: see this article.